Kuvira Zine
Volume II: Not Alone
Kuvira Zine Volume II will be a collection of fanworks centered around the character Kuvira. The SFW zine that will be available as a Digital PDF and as an A5 perfect-bound book with two main sections: Kuvira In Power and Kuvira At Home.
SECTIONS
Kuvira in Power may include Kuvira depicted as a leader in any capacity that isn't a dictator such as:
Earth Queen

Empress

Bending instructor

Military commander

Business owner

Benevolent mob boss [Head Mod Zhi just finished Golden Wind, okay? XD]

Youth Outreach Coordinator

Special Forces Leader, etc.
Kuvira at Home, we will explore alternate universe and post-canon situations such as:
Kuvira if she were adopted by Lin

Kuvira raised by the Red Lotus

Kuvira reconciling with Suyin and the Metal Clan

Kuvira relaxing/hanging out with friends

Kuvira chilling on her own

Kuvira going on dates with Baatar, Korra, Iroh II, Mako, or whoever

Kuvira with children
Shipping will be allowed in the SFW zine but interactions must be mild. Snuggling is OK, but passionate groping NOT OK.

There will be a digital NSFW side-zine that may include Kuvira alone as well as Kuvira in a relationship with others. Prohibited content includes underage, incest, age-gap, non-con, dub-con, and excessive gore.
ZINE SPECS
| | |
| --- | --- |
| Content Rating: 16+ | Color Mode: CMYK |
| Size: A5 | Resolution: 300DPI |
Compensation
All contributors are guaranteed a PDF copy of the zine.

If sales permit, contributors will also receive a physical copy of the zine.

Contributors may purchase any merchandise produced at production cost.
Meet the Mods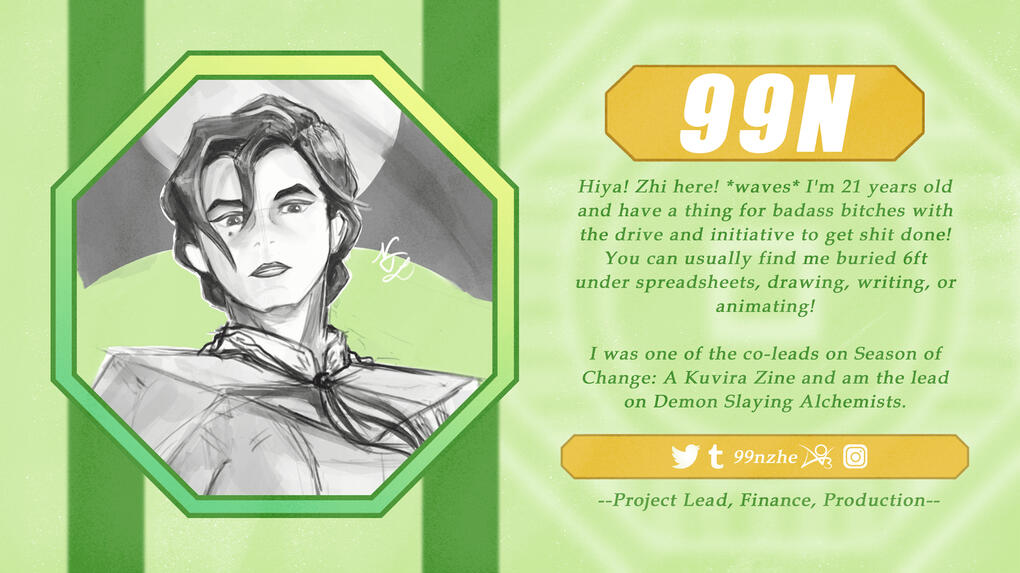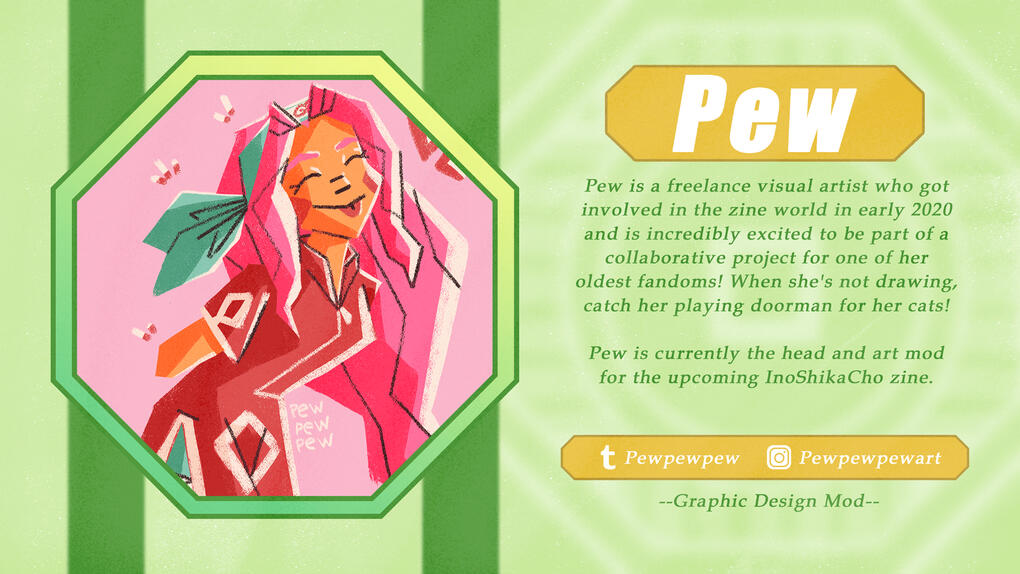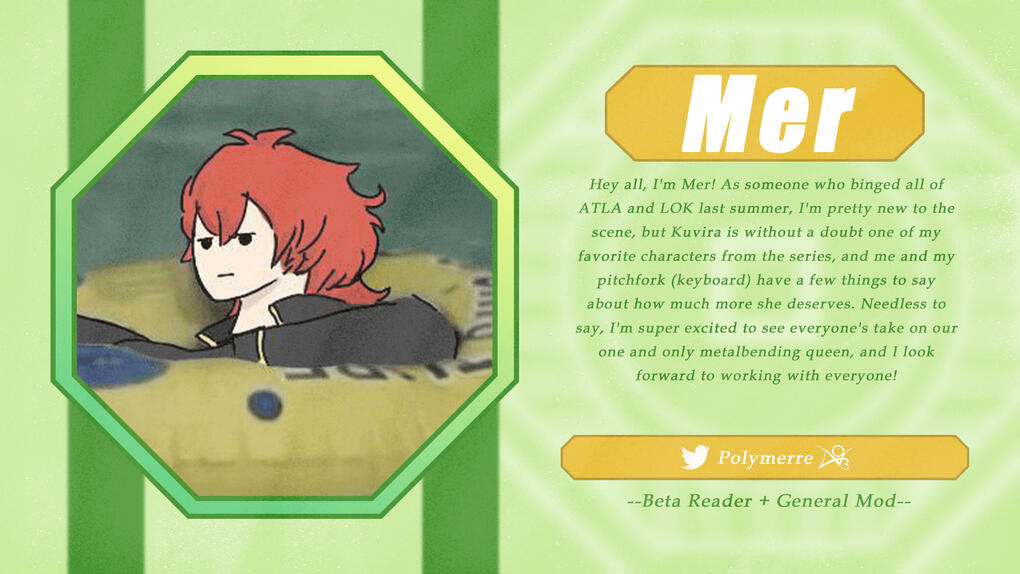 Schedule
💚
Mod Apps Open - March 24 - April 9

Contributor Apps - April 5 - May 2

Creation Period - May 10 - August 8

Pre-orders Open - August 23 - October 15

Production - September

Shipping - October/November
💚
Note: Exact dates are subject to change in the event of emergency or production delays.
Participant Expectations
All participants must be 18 years of age or older at the time of application, reliable, respectful, honest and communicative.

All participants must notify the Project Lead as soon as they are aware they won't be able to make a deadline.

No hate speech, discrimination, incest, pedophilia, major/minor shipping, or excessive violence will be tolerated in the server or in zine submissions.
Contributor Expectations
Contributors will be assigned a section and must get pitches approved before beginning work to ensure that no two submissions are alike. (Contributors may change their pitch at any time if their original idea does not work out.)

Contributors will have three months to complete their submissions (with three progress checks during that period).

Contributors may not publish their full submissions or reproduce their zine submissions commercially until three months after all physical orders have shipped.
Page Illustrators
Page Illustrators are expected to contribute 2-4 pages of full-color content. This can be:
one spreadtwo spreadstwo single-page illustrationsone spread and one single page illustrationAll files must be submitted as a PSD or TIFF file in CMYK color profile. Templates will be provided.

Comic Artists
Page Illustrators are expected to contribute 2-4 pages of drawings with clean lines and greyscale or halftone shading. Color is optional.
All files must be submitted as a PSD or TIFF file in CMYK color profile. Templates will be provided.

Writers
Writers are expected to contribute a Kuvira-centric one-shot between 1500 and 3000 words.

Merch Artists
Merch artists will be assigned certain items the mods think will suit their style best. This may include Desktop or Phone backgrounds, emojis, printables, prints, stickers, and charms.

Spot Artists
Spot Artists are expected to contribute 4-6 pieces of spot art depending on size and complexity of each piece of spot art. A piece of spot art may be something like, a sword along the side of a page, a bowl of rice on a plain table, a tree atop a hill in the bottom corner of a page, or a small illustration that fades out into the text with little to no background.
General App Requirements
All work samples included in the application must be entirely your own. No collaborations (such as "I did the sketch and lines and my friend colored).

If linking a Google Drive Folder for your portfolio, we must have permission to access the drive. Either set the folder to "Anyone with a link can view" or share it directly with [email protected] BEFORE linking it. If we cannot view your portfolio or work samples, we will not judge your app.

Page Illustrators will be judged on overall scene composition, lighting, shading, use of color, and anatomy. Full backgrounds are preferred. Solid color or gradients do not count as a full background.

Spot Artists will be judged on use of color, anatomy (if applicable), level of realism and stylization. Backgrounds are not required!

Spot Artists will be judged on use of color, anatomy (if applicable), and stylization. At least one sample with a background is required!

Writers will be judged on their characterization, plot, pacing, and their command of the English language.